MICRO NANOBUBBLE SHOWER HEAD "Aliamist Bollina"
Thank you for choosing our "shower head Aliamist Bollina". Please read and save this manual carefully to ensure you get the best performance from your Bollina.
CAUTION
Use only for shower head in the bath room.
Use for water only, must not put any chemicals.
First need to check shower pressure and temperature before using. (There are possibilities to be burned by too much hot and high pressured water.)
Can use maximum temperature of water less than 60 degree C.
Don't keep shower head in cold area, there are possibility to be broken by iced water.
If water pressure of tap were too low, may not generate micro nano bubbles.
The water saving rate will be various, depends on the water condition of each country or area.
How to mount this shower
The size of screw: G1/2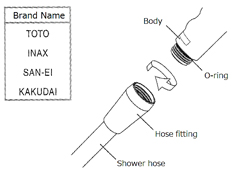 1. Just replace current standard shower head.
If you change from INAX shower head, you can replace original O-ring to attached packed one.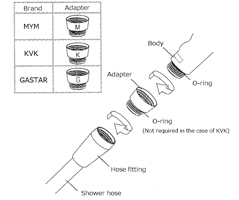 2. When you use attached joint adaptors.
Working conditions
Water pressure: 0.07~0.75MPa (Best pressure is 0.15MPa) Temperature: 60 degree C
Precautions for safe handling
Stacked on shower plate may affect bad showering. Then need to open top plate of shower nozzle, and confirm any dust on holes and strainer.
Don't feed big impact, and reassemble or modify to this shower head.
Under the low pressure or low flow, those nano bubbles may not generate.
How to maintenance
If this shower head became dirty, wipe by soft clothes with water or neutral detergent.
Don't polish or scrub strongly, nor don't use blush, cleanser, tooth paste and so on.
It may affect damages to this shower head.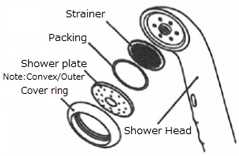 If shower condition became poor, first try to clean up the face of shower nozzle by tooth brush or soft brush. Still water condition didn't recover, then try to reassemble shower nozzle.