Certificate of commendation from the Republic of Indonesia
After 15 years, we have been working on the utilization of Indonesia's infinitely-named sawdust for the first time, and while conducting trial and error to establish a high quality charcoal in the same process as Japanese Bincho charcoal, we have set up an overseas coal mill. I was successful.
March 7, 2000 In recognition of the above and contributions to the development of the charcoal industry technology in Indonesia and human resource development, a letter of appreciation was awarded by the Indonesia Development and Investment Bureau.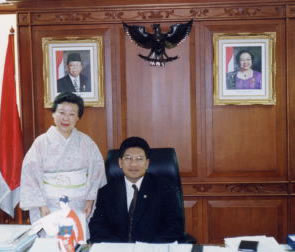 [Left] Mitsuko Shirasaki, President of the Company (at that time) n [Right] Minister of Investment and State-owned Enterprise Development, Republic of Indonesia (at the time) n Laksamana Skardi
---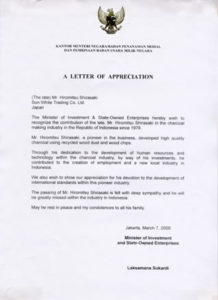 Letter of thanks
Sun White Taiyo Charcoal Co., Ltd.
The late Mr. Hiromitsu Shirasaki
The Minister of Investment and National Enterprises of the Republic of Indonesia has contributed to the development of Japan's charcoal industry since 1978.
We would like to express our gratitude to Mr. Hiromitsu Shirasaki.
As a pioneer in this field, the deceased person reused the wood scraps and wood chips, which are environmental resource agents, and developed a high quality charcoal manufacturing technology.
Through investment, I was devoted to the development of charcoal industry technology and human resource development, and created new employment opportunities and local industries in Japan.
We would also like to express our deepest homage to the efforts of the Indonesian charcoal industry to develop to international standards.
And Indonesian industry feels deep sadness after the death of Mr. Hiromitsu Shirasaki.
I express my heartfelt condolences here. We also pray for the happiness of the family.
March 7, 2000
Republic of Indonesia Investment / State-owned enterprise development
Minister Laksamana Skardi (then)
The minister's signature cannot be shown to prevent duplication. Please understand.
Received watercolor painting from Ambassador of Indonesia Plenipotentiary
Last August 2nd, 2004 (Monday), when the sunshine in the midsummer was severe, there was another wonderful thing for us.
Invited by the Indonesian Embassy in Tokyo, Mr. Abdul Ilsan (Ambassador of Indonesia Plenipotentiary) presented a hand-drawn painting.
In addition to our daily business activities in Indonesia, our ambassadors expressed their appreciation for our efforts as a bridge for cultural exchange in the form of a hand-drawn cherry tree.
We will support the future development of Indonesia with a little effort.